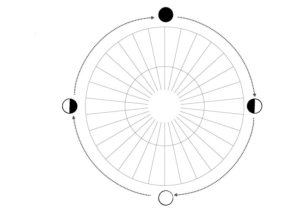 "Under your skin, the moon is alive" – Pablo Neruda
Conscious Cycles has taken form thanks to my own struggle with my period.
During years of study and work I have discovered a revolutionary vision that helps me prevent the depressive thoughts that in my case used to kick in during my premenstrual days. Nowadays I observe, and even enjoy, the natural changes in my body and mind, and the particularity it is to be a woman and a cyclic being.

Through the years many of my coachees and yoga students have also come up with questions in regards to the cycle, and regards to PMS and menstrual pain. We have worked with this holistically, addressing body, mind and all areas in life, to understand better the cyclic nature; to be able to prevent and alliviate pain, and cultivate cycle awareness. 
Conscious Cycles is a project that is alive and always in movement; it has been growing and developing reflecting the need of young girls and women of all ages, to be able to relate to their body in new ways, to find solutions to the pain and other problems related to their period. 
Getting to know your cycle is an integrated ongoing journey, working holistically with all aspects of life and of your whole body-mind-soul system, to better understand yourself and everything related to your cycle, and live harmoniously with the natural changes.
We are cyclic beings, wonderful; simple and complex at the same time. Not only your hormones, but also your constitution, your body memories, belief systems, traumas, your posture, habits, and what you eat, have all an influence on how you experience the different phases of your cycle. 
The holistic approach of Yoga and Ayurveda has been the foundation to develop the method I call CICLO FLOW, which is intended for:
Women who wish to find regularity and balance in their cycle, preventing and alleviating physical pain as well as emotional distress and PMS, without traditional medication.

Women who look for an alternative and personal support, in order to get to know their cycle from new points of views, being able to navigate through their month with more confidence and respect towards the natural changes in their body.

Women who want to discover the magic and the power of their cycle, knowing better how to take advantage from – and flow with the energy in every phase, cultivating their power, purpose and authority as Women.
A push to set direction

Thank you for our sessions. I learned a lot from them, one important thing for me was to name and describe things in words. Your questions made it easier for me to express my thoughts. Also your figurative descriptions made it easier for me to understand things in a wider perspective. It was a push that gave me directions in ways of thinking. Definitely, it has been valuable to me.

Johanna, Uppsala 2020

Peaceful support

Mia gave me tranquility and peace when I was in a "all over the place-state". The coaching sessions supported me. I warmly recommend Mia, who has a big heart and deep knowledge.

Anonymus, Palma de Mallorca 2020

A pause for insights

The sessions with Mia have helped me to take a pause, feel and get insights. Her way of guiding is wonderful, to me she is an angel.

Cata, Palma de Mallorca 2020

A new door opens up

Mia is both intelligent and good hearted as coach, and both these sides are shown in the sessions. She has a deep life experience that is reflected in her clear and honest way of coaching. She has helped me to define myself and to find strengths that I didn't know I had. Today I am more aware about my own acts and my own influence on my surroundings. It is like a new door has opened up and I just need to be brave to step through it. The fact that Mia has an orientation towards Yoga and Mindfulness gives yet another dimension to the coaching sessions.

Charlotte, Stockholm 2020