Do you want to host a yoga holiday, retreat or workshop? Or are you a company looking to organize a special day for your employees, with team building, coaching and / or yoga?
Are you a yoga studio, hotel or retreat centre and want to host an unforgettable experience?
I offer: Classes / Workshops / Yoga Holidays / Retreats
Adjusted program according to your wishes and logistics.

Taylor made content according to your clients, profile and ideas. Choose from: yoga, functional movement, yoga philosophy, coaching, Breathwork, meditation, relaxation.

Promotion of the program and your offer through my channels and social media. 
Are you a company looking to organize an interesting and different experience for your staff?
To companies I offer: Workshops with focus on group dynamics, coaching, and/or yoga and functional movement. The program has a health approach and can be integrated in your trainings, conference days, incentives etc.
Program of 2 hours, half day or full day.
Taylor made theme, content and form according to your group, logistics and goals.
Planning, implementation and evaluation of the program in consultation with you.
THESE PROGRAMS CAN ALSO BE PERFORMED ONLINE.
Miaeyoga
Average rating:
2 reviews
Oct 9, 2022
Mallorca Hiking has been collaborating with Mia Larsson on several occasions since 2014 when our first common "Hiking and Yoga Holiday" took place. Since then we have been organizing this annual event and by the years we have welcomed many repeating clients who have been enjoying the professional experience that Mia has shared through her yoga and meditation classes as well as through her thoughtful and informative texts via info e-mails and her newsletters. Mia has also been teaching yoga through private classes to other private groups from Mallorca Hiking with great success.

- Nina, Mallorcahiking
Oct 9, 2022
Inspiring Teacher and Coach
I have known Mia for years and we have collaborated on several retreats. She is an inspiring and knowledgable yoga teacher, great with all levels of yoga practicioners. Our clients were always very happy with her open minded approach, experience in teaching a variety of yoga styles and her coaching skills. She is the right choice if you are looking for a multilingual, experienced yoga instructor or coach.

- Andrea, Breathspiration
Gratitude to my collaboration partners:
Amhoj, Borlänge, Sweden Breathspiration, Mallorca, Spain Carribean Yoga Academy, Puerto Viejo, Costarrica Espléndido Hotel, Mallorca, Spain Flor de la Vida, Mallorca, Spain Hotel Der Seehof, Goldegg am See, Austria International Events Bureau, Madrid, Spain Jardí de Llum, Mallorca, Spain Mallorcahiking, Mallorca, Spain Motiba Group OY, Finland Palma Sport & Tennis, Mallorca, Spain QiDo Herbolario, Mallorca, Spain Sa Bassa Rotja Ecoturisme y Hotel, Mallorca, Spain United Influencers, Stockholm, Sweden SollerSup, Mallorca, Spain Utopia Ecohotel, Lanquin, Guatemala Vålådalens Fjällstation, Vålådalen, Sweden Yogahuset, Falun, Sweden Yogashala, Östersund, Sweden Zunray Yogastudio, Mallorca, Spain.
Retreat with Breathspiration, Banyalbufar, Mallorca, 2016.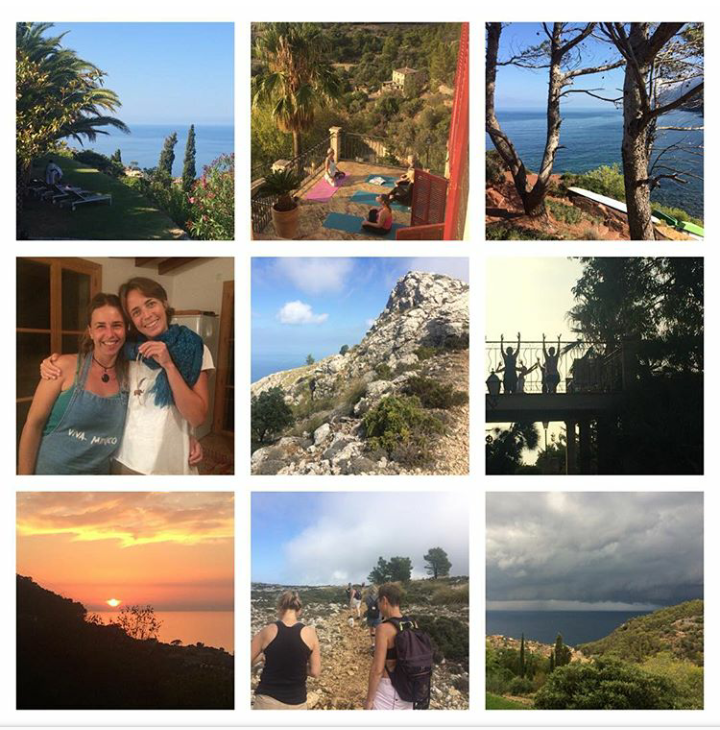 Miaeyoga
Average rating:
2 reviews
Oct 9, 2022
Mallorca Hiking has been collaborating with Mia Larsson on several occasions since 2014 when our first common "Hiking and Yoga Holiday" took place. Since then we have been organizing this annual event and by the years we have welcomed many repeating clients who have been enjoying the professional experience that Mia has shared through her yoga and meditation classes as well as through her thoughtful and informative texts via info e-mails and her newsletters. Mia has also been teaching yoga through private classes to other private groups from Mallorca Hiking with great success.

- Nina, Mallorcahiking
Oct 9, 2022
Inspiring Teacher and Coach
I have known Mia for years and we have collaborated on several retreats. She is an inspiring and knowledgable yoga teacher, great with all levels of yoga practicioners. Our clients were always very happy with her open minded approach, experience in teaching a variety of yoga styles and her coaching skills. She is the right choice if you are looking for a multilingual, experienced yoga instructor or coach.

- Andrea, Breathspiration